I was just informed that the PBIS survey settings posted yesterday were not quite right and may have prevented some from being able to take it. It should be updated now so everyone can take it without any sign-in's required! Your opinions are important, thanks to all that are willing to share theirs! Link to survey:
https://forms.gle/LVvvGnWVxTFx4LEK8

Hello SODA parents! We are in the process of creating a new Positive Behavioral Interventions and Supports (PBIS) system here at SODA to implement at the beginning of next year. Our first step in doing so is to create a new school code. We have already surveyed staff and students on their opinions of a new school code, and now we want your opinions! If you could please take a few moments to fill out this survey it would be great appreciated!
https://forms.gle/2XUP4uAxp95GvH7v8


Feb 1-5th is Nation School Counselor Week! Today, our focus for this week is perseverance, which is when you continue to work towards achieving something despite obstacles, failure and opposition. And one way to persevere is to collaborate, or work cooperatively with others. In the Marvel's The Avengers, Nick Fury, says "There was an idea to bring together a group of remarkable people to see if we could do something more." Like the Avengers coming together to work toward a common goal or tackle a challenge, you can work with your peers, your teachers or your family to achieve a goal in your community, to support one another or even to do something remarkable. It's easier to persevere when you have someone working alongside you.

Congratulations to SODA students who are winners in the Scholastic Art and Writing contest! Jose Gallegos won a Gold Key for his poem, "Symphony". Tyler Fisher won a Silver Key for his novel "V8 Ford". And Micaela Hidalgo won an Honorable Mention for her short story, "The Match". These students competed against students in six other states to earn this recognition for their writing skill. Jose, as a Gold Key winner, will automatically be entered into the nationwide competition.

Reminder: Today is the last day to turn in Elementary yearbook portraits. Pre-k through 5th grade students are encouraged to turn in a portrait that can be used in the yearbook. Instructions can be found in your child's google classroom or on our Facebook page. Please read through the instructions before submitting a photo. Also, today is the last day to get 21% off your yearbook purchase. You can buy your yearbook online at ybpay.lifetouch.com. Send questions and pictures to Mrs. Q at
aquintana@sodacharter.com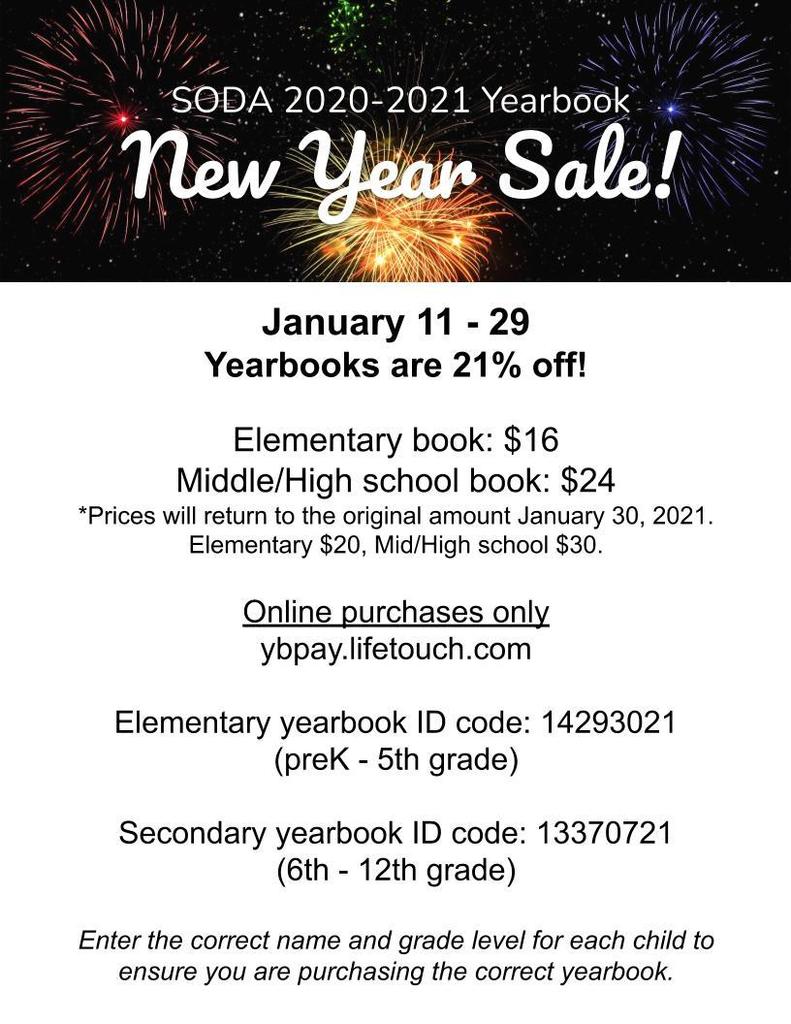 Parents! Please take the reentry survey that we released yesterday. If you need help call 866-7632 and we will assist you. Thank you and be safe!

Hello SODA Family! We look forward to the possibility of reopening our schools and returning to the classroom in a hybrid model. To do so, we need your help and feedback. Please fill out the Parent & Student Re-Entry Survey
https://forms.gle/iV1Qb6xL7WsZbevs5
The survey is also available by visiting our website at sodacharter.net In addition, please download our new SODA app. Apple:
https://apple.co/3oDs7VK
Android:
https://bit.ly/2XuPDZb
The app is available on our website or in the app store by searching School of Dreams Academy. This App will be a great way to continue sharing information with our SODA Community. As always, we greatly value your input on mitigating the spread of COVID-19 and ensuring our students continue to receive a meaningful education. Together we are SODA Strong!
New Mexico State University and The Bridge of Southern New Mexico, will be presenting a virtual HSF College 101 on Wednesday, February 24th from 5-8 PM. The HSF College 101 is a free, three-hour college preparation workshop that is designed to assist middle and high school students—and their parents/families---identify and address the various steps necessary to plan for a college education. HSF College 101 sessions provide valuable information about how to prepare, plan and pay for college, apply for scholarships and research financial aid opportunities. The HSF College 101 virtual workshop will be offered in both English and Spanish. Register at
https://www.hsf.net/college-101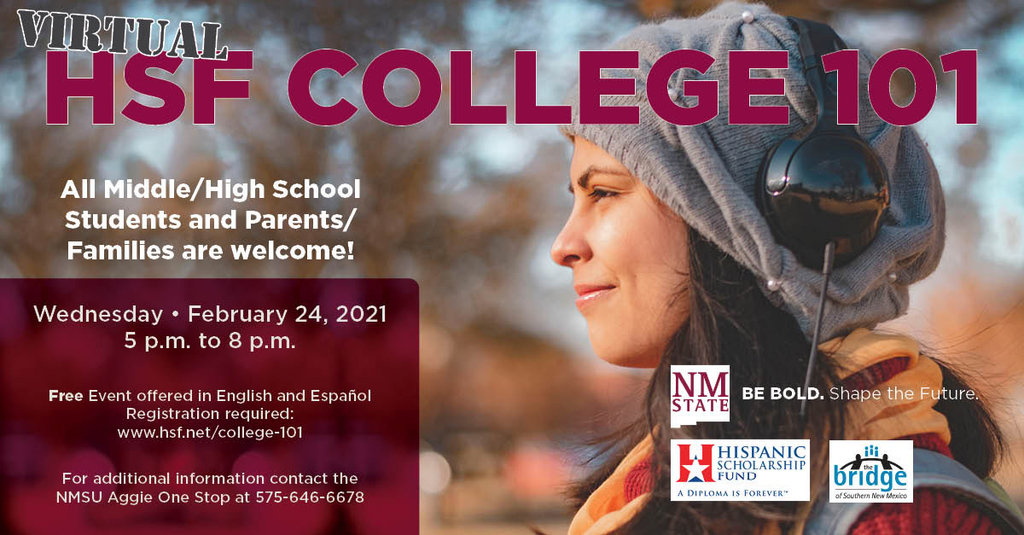 Download the new SODA APP now! PLEASE SHARE THIS INFORMATION! School of Dreams now has an app that you can download onto your smartphone. Find our free app in your App Store (available for IOS and Android devices). You can also find the link on our website
www.sodacharter.net
. Scroll to the bottom of the main page and you will see the links on the right side of the footer. We will be using these platforms to push out important information about reentry and other announcements moving forward. Stay tuned!

Good Morning SODA Community. In light of Governor Lujan-Grisham's statement yesterday about schools having the green light to consider opening on February 8th please be advised that the state is allowing each district and charter school flexibility on how this will roll out. As for us at SODA we will continue virtually, which is what our Governing Council ordered in January. SODA administration will be meeting and discussing options and timeframes for beginning a "safe" reentry schedule. Stay tuned to this feed and our website for more information as it becomes available.

ANNOUNCEMENT There will be no school Monday January 18, 2021 due to the observance of Dr. Martin Luther King Jr.'s Holiday! Normal class schedule will resume Tuesday 1/19/21.

NM PreK Announcement The School of Dreams Academy NM PreK program has a couple of openings for the Spring 2021 semester. In order to enter the program your child would have had to turn 4 years old prior to September 1. 2020. These slots will be filled on a first come basis. Interested parents can call the SODA Preschool Coordinator at 505.866.SODA (7632). Child Find Screenings What is Child Find and what does SODA's Child Find do? • Child Find is part of the Individuals with Disabilities Act (IDEA) which requires states to identify, locate, and evaluate all children with disabilities ages 3-21 who are in need of special education. • School of Dreams Academy conducts screenings of preschool-aged children whose parents/guardians have concerns about their child's speaking, understanding of language, learning eye-hand coordination, movement, socialization, behavior, or other concerns. If you would like to have your child's developmental skills screened what is the criteria? • Your child must be between the ages of 3 to 5 and must have turned 5 years old after September 01. What should you and your child expect when an appointment is scheduled? • Initial screenings require about 45-60 minutes of you and your child's time. • Your child will be screened in the following areas: • Speech 1. Language 2. Fine and Gross Motor Skills 3. Self Help Skills 4. Social/Emotional Skills 5. Hearing 6. Vision • Following your child's screening, you will receive a letter with the outcome of the screening and recommendations. This may include further evaluations or referrals to outside agencies. What are your next steps if you have any concerns regarding your child's developmental skills? • Call School of Dreams Academy's Preschool Coordinator for further information if you have any further questions. • Please call to schedule an appointment at (505)866-7632. An intake will be performed over the phone.
Thank you for everything donated for the Thanksgiving drive!

Thanks to everyone who donated during our last food drive! In the spirit of giving, we would like to continue helping our families throughout this holiday season. Wednesday Dec. 2nd through Wednesday Dec. 16th, 8:00am - 4:00 pm you can drop non-perishable food items at the SODA guard shack. There will be a no-contact drop off set up. Just roll down your window and place your donated food items on the table. Please stay home and do not donate if you are sick or if someone in your home is sick. We want everyone to be safe and well. You can also donate through our SODA PTC Venmo account at
www.venmo.com/SODA-PTC
Together we are SODA strong!!

Now Hiring!: Secondary Science Teacher with a NMPED Licence or is able to qualify for a NMPED license For more information please send an email to
djarvis@sodacharter.com