Special Meeting of the Governing Council Tonight 6:30pm via zoom Michael Ogas is inviting you to a scheduled Zoom meeting. Topic: Special GC Meeting Time: Nov 19, 2021 06:00 PM Mountain Time (US and Canada) Join Zoom Meeting
https://us06web.zoom.us/j/84123052201?pwd=em5zZmM2bWJsRG9hblhwRE4vKzhKUT09
Meeting ID: 841 2305 2201 Passcode: 196070 One tap mobile +17207072699,,84123052201#,,,,*196070# US (Denver) +12532158782,,84123052201#,,,,*196070# US (Tacoma) Dial by your location +1 720 707 2699 US (Denver) +1 253 215 8782 US (Tacoma) +1 346 248 7799 US (Houston) +1 646 558 8656 US (New York) +1 301 715 8592 US (Washington DC) +1 312 626 6799 US (Chicago) Meeting ID: 841 2305 2201 Passcode: 196070 Find your local number:
https://us06web.zoom.us/u/kNKL2Gw0I
Please make plans to join us December 3rd for the School of Dreams Academy Bonfire and Car Show. Entrance fee for spectators of the bonfire and car show is three non-perishable food items. To register for the car show requires completed registration form, proof of registration, proof of insurance, valid driver's license and $20entry fee to either
aduran@sodacharter.com
or
presendez@sodacharter.com
School of Dreams Academy is proud to announce the new criteria for students that are interested in receiving their Academic Letters. Clubs and organizations have their own criteria for specific organizational letters. Please reach to Mrs. Resendiz if you have any questions regarding Academic Letters for this year.
Hello SODA families, we will be hosting a student and staff COVID & Flu vaccine clinic on Friday 11/19/21 starting at 9:00 AM. COVID vaccines are available for student 1st and 2nd doses and staff 3rd doses. We have sent home permission slips with all students and are needing them back as soon as possible so we can make sure to have enough staff and vaccines. If parents prefer to be present at the time of vaccination please state it on the permission slip or call the school nurse. All staff must register online, use event code: JKVQTXN (Students who register online still need to turn in the paper permission forms) The forms can be found in the documents section of the website under SODA documents for nurse and are labeled Vaccine clinic forms or Click the link below:
https://core-docs.s3.amazonaws.com/documents/asset/uploaded_file/1679825/11-19-21_VACCINE_CLINIC.pdf
Thank you, Cynthia Sandoval, RN School of Dreams Academy Nurse 906 Juan Perea Rd Los Lunas, NM 87031 Office: (505) 866-7632 ext. 164
Veterans please join us November 11th as our students and staff honor you for your service. The program will begin at 9:30 am and be held at School of Dreams Academy. We look forward to seeing you there!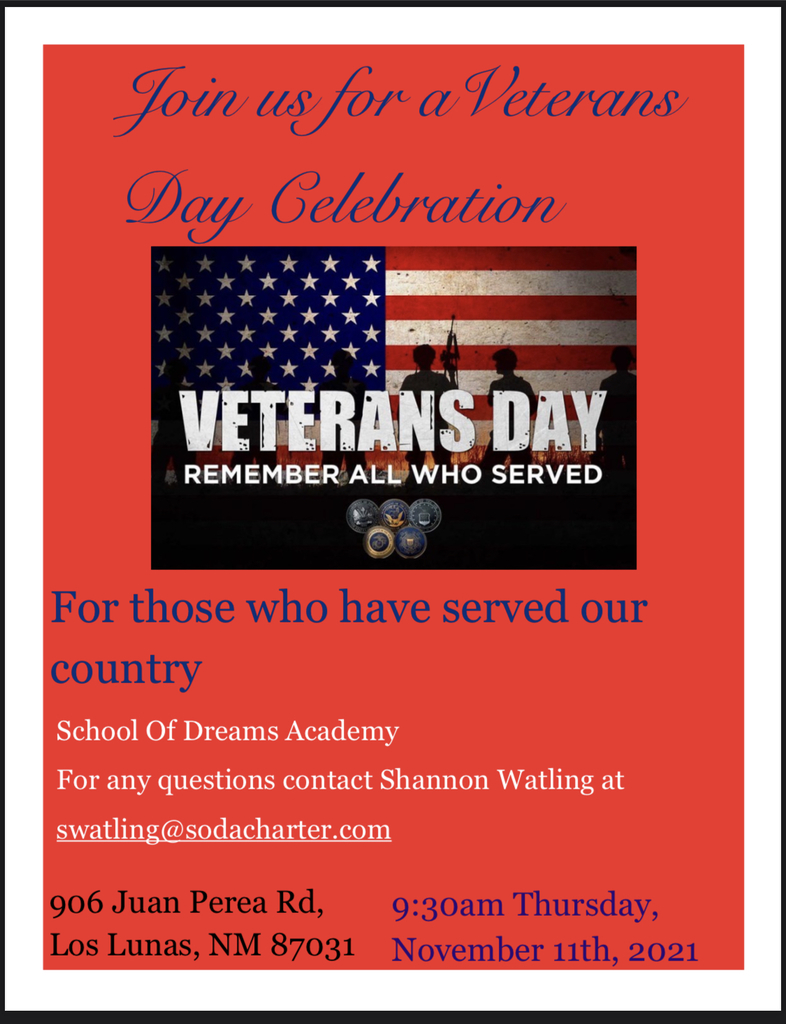 SODA Governing Council meeting tonight 7:00 pm via zoom. Here is the link. Michael Ogas is inviting you to a scheduled Zoom meeting. Topic: Governing Council Meeting Time: Nov 2, 2021 07:00 PM Mountain Time (US and Canada) Join Zoom Meeting
https://us06web.zoom.us/j/81008430858?pwd=ZHg0ODN5OUxmUkkycExpK3dzWFJ6QT09
Meeting ID: 810 0843 0858 Passcode: 736287 One tap mobile +12532158782,,81008430858#,,,,*736287# US (Tacoma) +13462487799,,81008430858#,,,,*736287# US (Houston) Dial by your location +1 253 215 8782 US (Tacoma) +1 346 248 7799 US (Houston) +1 720 707 2699 US (Denver) +1 301 715 8592 US (Washington DC) +1 312 626 6799 US (Chicago) +1 646 558 8656 US (New York) Meeting ID: 810 0843 0858 Passcode: 736287 Find your local number:
https://us06web.zoom.us/u/kiC4rkg2f
​Join us in our No Shave November Challenge and help raise funds for NM Cancer Center Foundation. Download your registration form and turn it in to the front office of School of Dreams Academy to participate. ​Registration forms are available in our office and on our website, under this News Story.​​ Pictures can be emailed to
swatling@sodacharter.com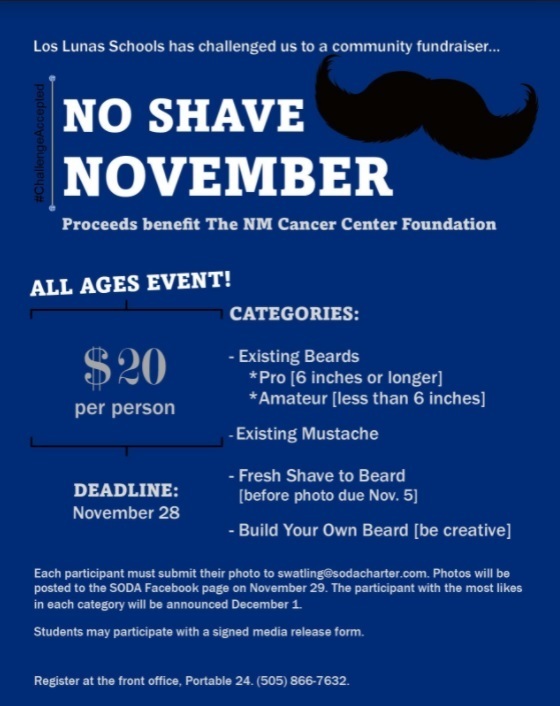 The School of Dreams Academy Drama Club presents "Killing Death" and "Sleepy Hollow" November 5th at the Belen HS Auditorium. The show will begin at 6 pm and the cost is $5 per person. Come support our future thespians.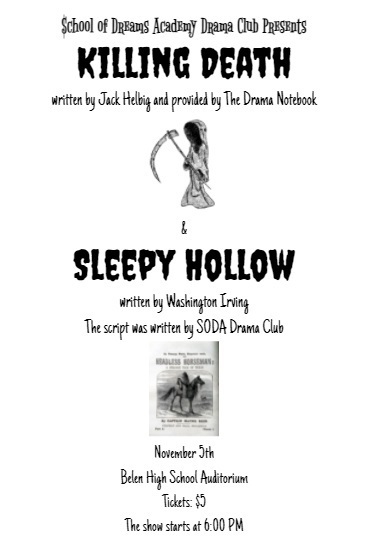 Class of 2022 Senior Night will be held at the Los Lunas Train Station on Thursday, November 4th, 2021 at 6:00 pm. Please make plans to attend if you are a senior or the parent/guardian of a senior.
Next week we are celebrating not only the return of students on November 1st, but also our 12th year as a public charter school. Students and staff are allowed to wear school appropriate costumes all week. Please remember that costume masks are not allowed, as well as no blood or weapons. Students are still required to wear a facial mask per NMPED guidelines, this can be decorated but not hinder the mask's ability to function appropriately.

Spartan Class of 2022 is inviting you and your family to a night of ice cream. Baskin-Robbins October 28, 2021 5PM-9PM 20% of the profits will go to SODA class of 2022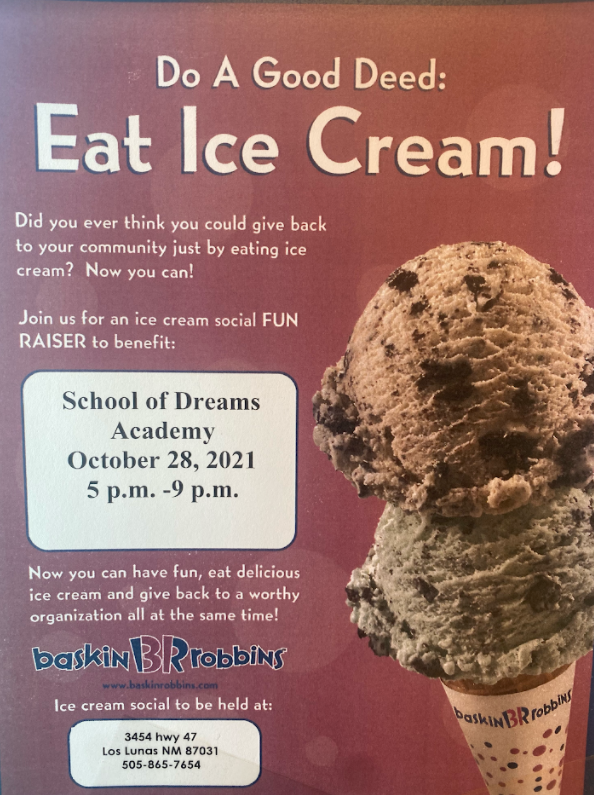 Hello SODA families, NMDOH will still be having the vaccine clinic here at SODA in portable 32. This event is free for the entire community and anyone interested in getting vaccinated. If you had already made an appointment for the COVID vaccine and it was cancelled, please be informed that the cancelling of the appointments was made in error. Continue to plan on coming and the appointment will be reactivated. for more details please see the event calendar.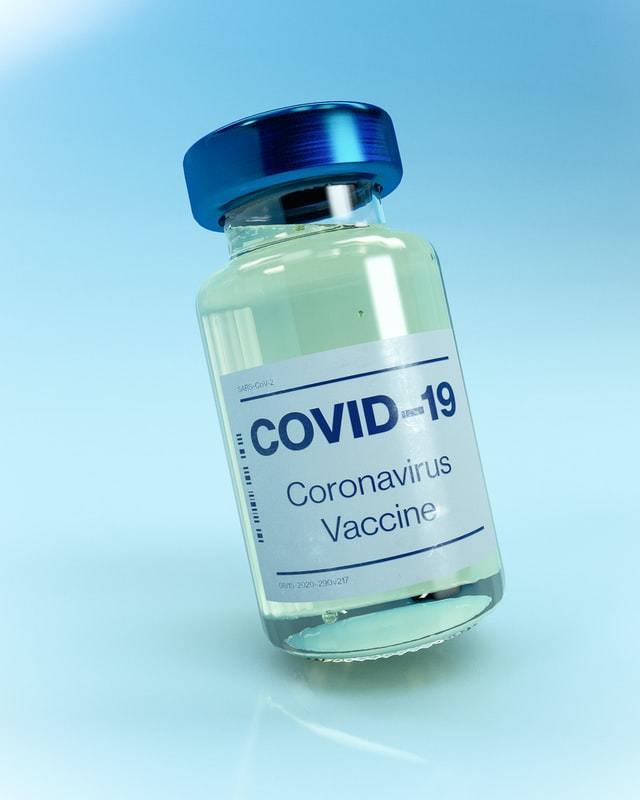 Due to current restrictions on campus please take notice of upcoming events: Oct. 26th PSAT and Oct. 28th SAT from 8-1 pm is still scheduled Advisory teachers will be reaching with more information. Oct. 27th Senior Night will be rescheduled, date yet to be released. Oct. 29th Fall Festival will be rescheduled, date yet to be released. For other questions please contact School of Dreams Academy at 505-866-7632.

Employment Opportunities JOIN OUR TEAM! School of Dreams Academy is looking for fun, unique and energetic educators to add to our team! If you're a dynamic teacher who thrives in a fast-paced, adrenaline infused environment where you'll be surrounded by caring, genius minds, and a platform to change the world, then this is the place for you! The School of Dreams is looking to fill the following positions: First Grade Teacher Fifth Grade Teacher HS Math Teacher Educational Assistants Custodians Licensed Substitute Teachers Security Guards HS Counselor ECHS Liaison Social Worker HS Science Teacher Special Education Coordinator Certified Speech Language Pathologist Benefits include NM Public School Authority
https://nmpsia.com/insurance.html
. Email your resume and application to
djarvis@sodacharter.com
You may also include any additional info that lets us know more about you and your teaching style. You'll receive an email letting you know your submission was received. We will reach out if we'd like to get more information! Let's change the world! The School of Dreams Academy Team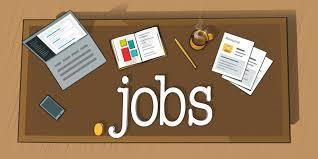 Meal pickup will be available Monday through Friday, October 18 - 29th, at H2 Academics, El Cerro Dollar General, Meadow Lake Senior Citizens, Starlight Theater, and School of Dreams Academy from 10am - 12 pm.
Good afternoon SODA families and staff. All students PreK -12 will now be on virtual through the rest of October and will return to in person learning on Monday Nov 1st. Students scheduled to take the PSAT test on October 26th will be allowed on campus to take the test (details on the PSAT will be forthcoming). Teachers will be teaching from home until October 25th. Admin and office staff will be on site to take calls and answer questions as usual on Monday the 18th. Please continue to check our Facebook and website for further updates.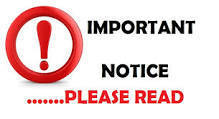 Due to health concerns, our FFA Pie Auction for tonight has been CANCELLED. We apologize for any inconvenience. Buyers and participants will be contacted today. Thank you!
School of Dreams Academy FFA is hosting their Annual Pie Auction this Friday Night.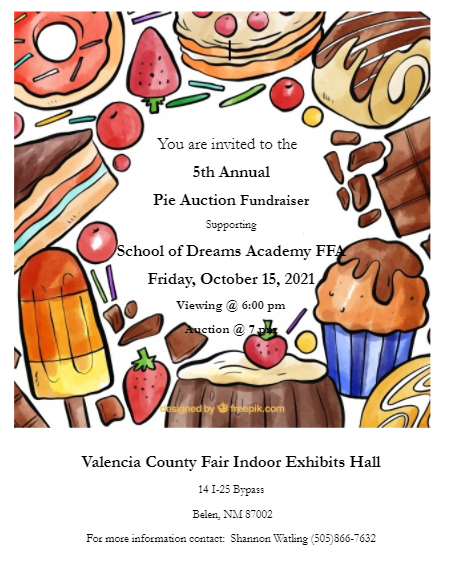 Please join us tomorrow night for our virtual Parent Teacher Committee Meeting.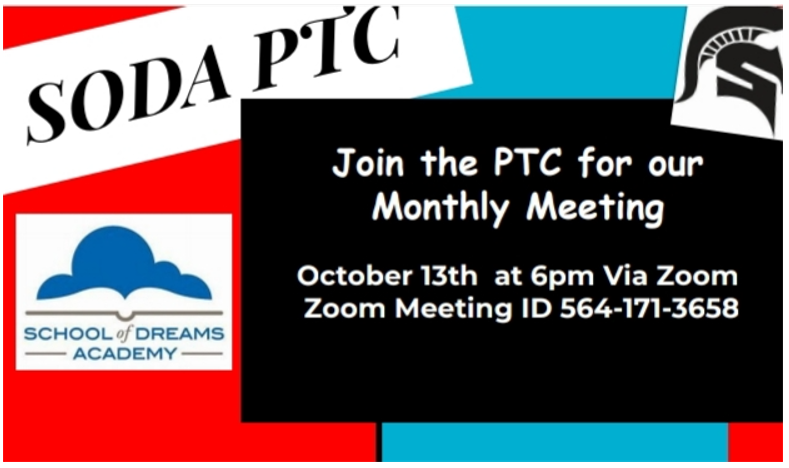 Hello SODA Families, We would like to inform you that there was an individual on campus on 10/6/21 & 10/7/21 who positive COVID-19. If you were in close contact with the individual you will be getting a call from SODA staff today. Please refer to the Positive exposure letter for guidance.